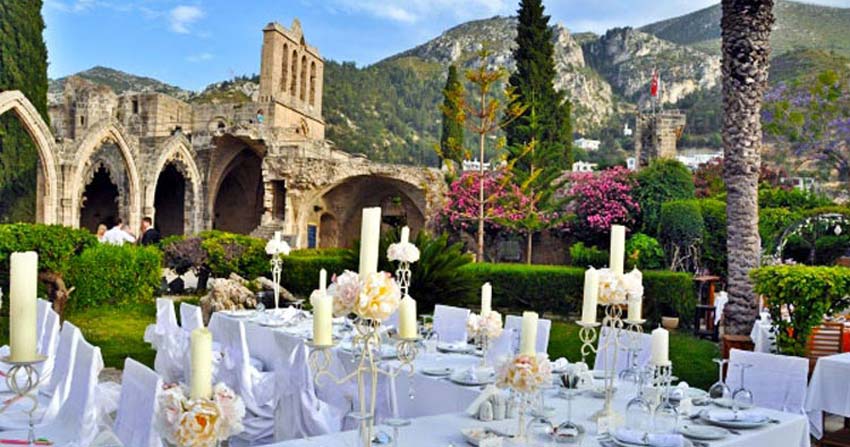 Wedding in North Cyprus
If you are seeking a truly enchanted setting for your special wedding day to exchange your vows then look no further. Cyprus is the love of island just perfect with its fascinating romantic atmosphere for your romantic wedding ceremony.
The day has come to share your vows for a lifetime together and the need to find a place where your dreams will come true. Northern Cyprus is the perfect wedding destination with the most romantic atmosphere; here we will create the most memorable days of your life with a wedding package in North Cyprus. We make sure that memories of every single minute of your Cyprus wedding day will be perfect ones to remember for a lifetime, and to enjoy the day of your dreams - Cyprus wedding day. With a reliable team we ensure that every single details of your wedding day will be under our control to make your happy occasion the most romantic, fun and stress-free.
We aim to make your wedding in North Cyprus special and to create the unique and perfect dream, irrespective of budget or wedding party size from the reception and ceremony venue to photography, cars, video and floral arrangements.
Our North Cyprus wedding packages are affordable and come with different options. Whether you would like to exchange your vows on a beautiful beach or in a church, both are available. An affordable beach wedding might be perfect for you. All you need to do is contact our North Cyprus wedding experts.
Honeymoon in North Cyprus
For a Romantic, Quiet and Secluded honeymoon North Cyprus is the perfect place with its charming natural beauty, warm waters and climate. There are some good choices of honeymoon hotels in Northern Cyprus. For the best honeymoon package in your mind we are here to help you. For more details please contact us.